Since 1974, World Environment Day has been celebrated every year on 5 June, so this month we want to acknowledge this event by reviewing a scientific article where zebrafish are used to test the toxicity of certain pesticides: Toxicity of Deltamethrin to Zebrafish Gonads Revealed by Cellular Biomarkers 1, published in Journal of Marine Science and Engineering on January 23th, 2020.
This article investigates the chronic effects of deltamethrin, a synthetic insecticide extensively used in pest control, on gonads. For doing so, the authors of the mentioned article exposed zebrafish adults to different non-lethal concentrations of deltamethrin and studied cell death and proliferation and oxidative stress in the gonads.
Pesticides: classification, toxicity, and importance
Pesticides are defined as any substance used to kill, repel, or control certain forms of plant or animal life that are considered to be pests2. This definition includes a wide range of compounds including insecticides, fungicides, herbicides, rodenticides, molluscicides, nematicides, plant growth regulators and others.
Ideally, pesticides must be lethal to the targeted pests, but not to non-target species, including man. Unfortunately, this is not the case, so the controversy of use and abuse of pesticides has surfaced, leading to a greater demand for toxicity data.
Several classifications have been proposed based on various criteria. Most commonly used criteria for classification of pesticides are their mode of entry, their chemical composition and the targets they kill. Besides, World Health Organization (WHO) and Globally Harmonized System (GHS) have classified pesticides according to their toxicity or hazardous effects3.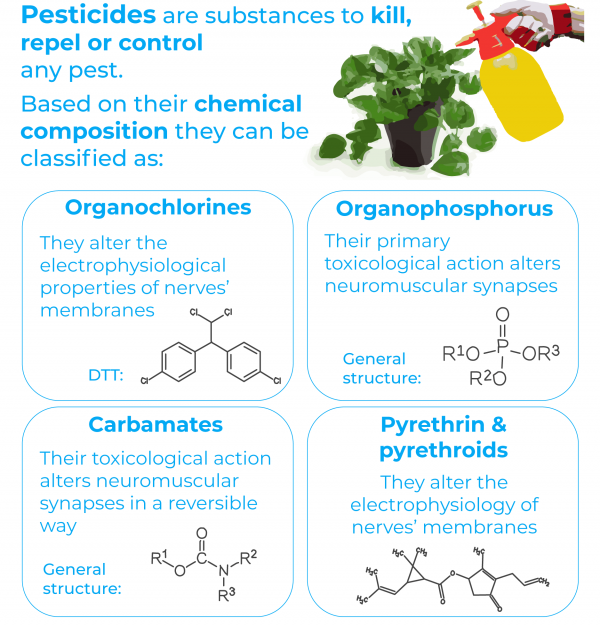 Here, we will present the classification based on pesticide's chemical composition, since it is the most common and useful method of classifying them. In general, modern pesticides are organic chemicals, including both from synthetic and plant origins, but some inorganic compounds can also be used as pesticides. Based on chemical composition, pesticides are classified into four main groups:
Deltamethrin, a broad-spectrum insecticide
Deltamethrin is an insecticide belonging to the pyrethroid family. It is used outdoors on lawns, ornamental gardens, golf courses, and indoors as a spot or crack and crevice treatment. It has been in the market since 1978 and it can be found in different forms, such as aerosols, sprays, dusts, granules and wettable powders10.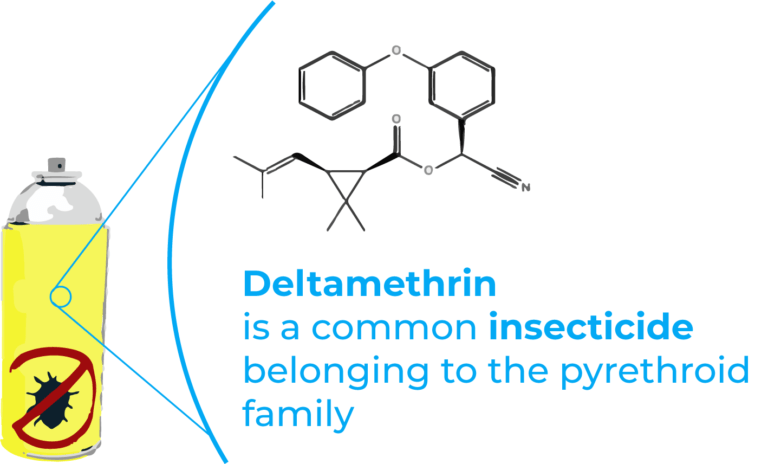 Humans can be exposed to deltamethrin if they touch, eat or breath in it (for example, if a fine mist or dust containing deltamethrin gets in the air you breath). When deltamethrin gets on the skin it can cause irritation that usually goes away within 48 hours. And if breathed in, it can cause headaches and dizziness10.
In the environment, the highest concentrations of deltamethrin have been found in dust samples from residential areas in Berlin and in river sediments in Vietnam11.
Regarding the effects of deltamethrin in aquatic ecosystems, negative effects have been found under laboratory conditions in different freshwater species: crucian carp, chinese mitten crab, silver carp, brown trout, and zebrafish1.
Zebrafish to study deltamethrin toxicity
Zebrafish is an excellent tool to study the mechanisms of pesticide toxicity and the alterations they induce in aquatic organisms. As a toxicological model, zebrafish have the potential to reveal the pathways of toxicity due to the similarities of its molecular pathways and physiology to that of humans.
Several studies have shown the effects of deltamethrin in zebrafish. With some of these effects being: development retardation, chorion surface tension reduction, larvae malformations (such as body axis curvature), pericardial oedema, developmental neurotoxicity, swimming speed and depth alteration, and inhibition of acetylcholinesterase1.
Besides, it has been shown that chronic exposure to this compound can cause reproductive impairment in zebrafish1. However, the mechanisms underlaying this effect are quite unknown. For this reason, the authors of the reviewed study aimed to complete the image of the lesions produced by deltamethrin responsible of this reproductive impairment by exploring the effects of this pesticide on the zebrafish gonads: testis and ovaries.
Effects of deltamethrin on zebrafish gonads
In order to study the effects of deltamethrin on the zebrafish gonads, what the authors of the study did was to expose zebrafish adults for 15 days to non-lethal concentrations of this compound. After 15 days of exposure, they studied the histology of the gonads, as well as cell death, cell proliferation and oxidative stress in these organs1.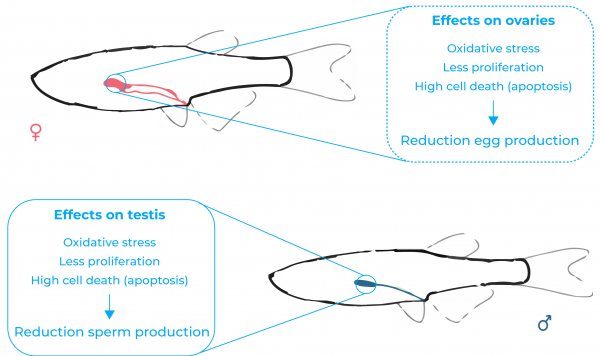 In both, ovaries and testis, they observed changes in the tissue of these organs. Moreover, in ovaries, they determined that the exposure to deltamethrin was related to a reduction in egg production and, in testis, to a progressive diminution of the spermatocysts containing spermatocytes and spermatids. Thus, this insecticide has a significant negative effect on the correct functioning of the zebrafish gonads1.
On the other hand, they studied several markers related to cell death, cell proliferation and oxidative stress in the zebrafish gonads. They evidenced that the decreased egg and sperm production could be explained by lower levels of cell proliferation, and higher levels of apoptosis, a type of cell death1.
This study evaluates the gonadotoxicity effects of deltamethrin in zebrafish adults and shows that deltamethrin affects egg cell and sperm production, pointing out a negative effect of this compound over the reproduction function.
Understanding the effects and mechanisms of action of insecticides, and all kind of pesticides, is of great importance since it can help to design more specific substances to reduce the non-desired non-target effects.